You can't make this stuff up.
A 13-year-old girl was suspended for one day from Wamsutta Middle School in Massachussetts because she brought a butter knife to school. She needed the knife to cut the pear packed in her lunch because she wears braces that prevent her from simply biting into the fruit.
Morgan LaPlaume told WXFT-TV that the principal spotted the deadly weapon on the lunch table and hauled her miscreant behind into his office.
"As we were walking to his office I asked him and he said you are not allowed to have knives in school, and I said I was using it to cut my pear, I wasn't harming any other student, and he said I know, but it's the policy," said the deceptively pixie-like Morgan.
As the mothers of hardened criminals often do, Morgan's mom, Melissa LaPlaume made excuses for her little felon.
"It's a butter knife, she has braces, there was no intent at all there," LaPlaume said.
Yet she broke the rules of the school, which presumably does not provide plastic knives with school lunches or at least gets around the rule by providing combination fork-knives, or "knorks."
This is just the latest in what seems to be a rash of incidents where school officials have had to step in to stop students with murderous intent.
For instance, there was the recent incident where a student on a school bus was thankfully suspended after preventing a football player with a loaded gun from shooting a teammate. If he hadn't been suspended, who knows what dastardly deeds the student might have moved on to commit — stopping a bank robbery or pulling someone from a burning car, perhaps.
Then there was the 7-year-old who chewed his toaster pastry into the shape of a gun (he said it was a mountain, but the teacher knew better). What a devilish mind to sneak a weapon past school metal detectors like that!
And let us not forget to sing the praises of the school officials who locked down all the schools in a Pennsylvania county because a medical office worker calling a high school student to confirm an appointment heard on the child's voicemail greeting the phrase "shooting some people outside of the school" and heroically ratted the kid out to local police. The voicemail message actually turned out to be the theme song from "Fresh Prince of Bel-Air," and the lyrics actually said "shooting some B-BALL outside of the school," but let's not muddy a tale of bravery and quick thinking.
This is a frightening trend across this country. Children with easy access to stuff that paranoid (I might even go out on a limb and suggest "liberal") adults find scary are rampaging out of control, creating a climate of fear.
Something needs to be done, and it should follow the pattern of gun control efforts, which have historically been so successful.
We need to start making our schools child-free zones. Kids need to be restricted. Not all kids, just certain ones, such as those who talk, chew gum, eat lunch, wear braces, stand up for fellow students, use high-capacity magazines or who just move around too much.
People who don't want to keep kids out of school to protect other kids just don't have a heart and must be Nazis. Owning a kid is like owning a gun, and as Dianne Feinstein pointed out, that's like child pornography, which means all parents are perverts. … Maybe we should just ban people from giving birth.
Of course, the Supreme Court's about to do that, in all likelihood, with its forthcoming gay marriage decision, which may hinge on the feelings of all the millions of kids with gay parents, if justices' questions are any guide.
http://www.foxnews.com/us/2013/03/29/student-reportedly-suspended-for-bringing-butter-knife-to-school/
We've got to do it to the children — er, for the children.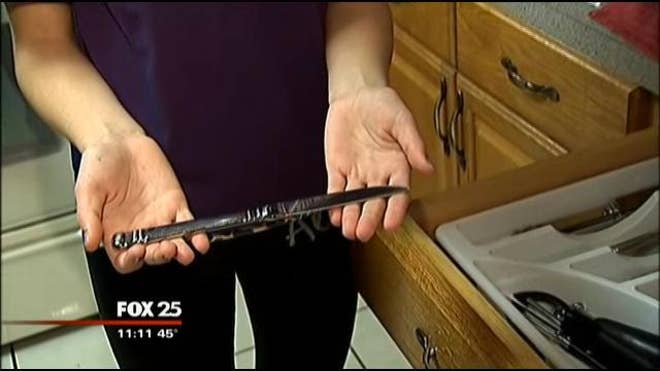 5 year old Threatened with Suspension for Making a Gun out of Legos
A five-year-old boy has been threatened with suspension after he used Legos to build a toy gun at school.
Video at link...
Joseph Cardosa, attends an a after-school program at Hyannis West Elementary School, on Cape Cod in Massachusetts. Teachers gave him a written warning for play-shooting some of his friends with the toy gun.
His parents say they understand that teachers are parents are on edge after the massacre at Sandy Hook Elementary School in Newtown, Connecticut, but argue that school administrators are taking things too far.
Joseph Cardosa, 5, was told he would be suspended for two weeks if he makes a gun at his after school program again
Disciplined: Joseph Cardosa, 5, was told he would be suspended for two weeks if he makes a gun at his after school program again
Joseph's mother Sheila Cruz said the school is over-reacting
Is this a gun: Joseph's mother Sheila Cruz said the school is over-reacting
'Kids are taught, "Here's a squirt gun, this is fun," so this is fun to him... he's running around playing,' Shelia Cruz told Fox 5 Boston.
Ms Cruz said teachers should have spoken with her son an re-directed his playing to a non-violent scenario.
'We were running around and we were shooting... we were jut pretending,' little Joseph said.
Teachers sent Joseph's parents a letter warning that if he play-acted with a toy gun again, he would be suspended for two weeks.
Suspension, Ms Cruz says, is excessive.
'It's not like he's designing a machine gun,' the mother said.
School administrators across the country have heightened sensitivity to any playing that involves simulated violence
Cracking down: School administrators across the country have heightened sensitivity to any playing that involves simulated violence
Teachers disagree.
Principal Kathi Amato said in a statement to Fox 5: 'While someone might think that making a Lego gun is just an action of a 5-year-old, to other 5-year-olds, that might be a scary experience.'
Ms Cruz admits that her son has been reprimanded once before for making a finger gun.
Since the December 14 massacre in Connecticut that killed 20 first graders, school administrators have been very sensitive to child making references to guns or shooting - even during play.
A five-year-old girl in eastern Pennsylvania was suspended after she said she was going to shoot her friends with her Hello Kitty bubble gun.
A fifth grader was suspended after she pulled out a torn piece of paper and said it was a handgun.
Read more:
http://www.dailymail.co.uk/news/article-2270243/Boy-5-threatened-suspension-building-toy-gun-Legos.html#ixzz2JPWTHRGv
[Last edited
Apr 01, 2013 00:24:29
]