Brothers and Sisters of Connecticut:
You are not alone. III Percenters across the country are watching, waiting to see what takes place. Against popular belief your countrymen will not stand idle and watch as doors are kicked in and families are murdered for embracing a constitutional freedom. An attack on the Citizens of Connecticut will not go unanswered by the Three Percent surrounding you. The right to bear arms shall not be infringed. If even one round is fired in the direction of the law abiding it will most assuredly be the second coming of the shot heard round the world. As Americans once stood firm at the North Bridge in Concord so should you stand firm today. Capt. John Parker of the first American Revolution once said "Stand your ground. Don't fire unless fired upon, but if they mean to have a war, let it begin here".
State orders owners of newly-banned, unregistered firearms to turn them all in.
The State of Connecticut is now demanding that gun owners across the state turn in all newly-banned, unregistered firearms and magazines or face felony arrest.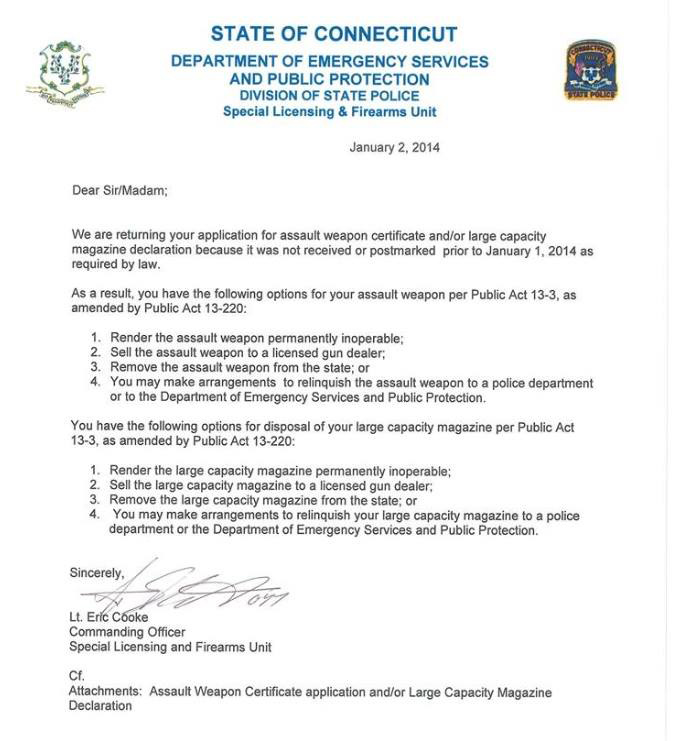 The State Police Special Licensing & Firearms Unit began mailing out notices to gun owners who attempted to register their firearms and accessories with the state but did not do so in time for the Jan. 1 deadline of Connecticut's newly enacted gun control law.
The law bans the sale of magazines holding over 10 rounds and "assault rifles" manufactured after 1994 and requires that residents who possessed either before the ban to register them with the state.
"We are returning your application for [an] assault rifle certificate and/or [a] large capacity magazine declaration because it was not received or postmarked prior to January 1, 2014 as required by law," the notice states.
The letter breaks down the gun owner's "options," including surrendering their firearms and magazines to the police, selling them to a gun dealer, removing them from the state or rendering them inoperable.
Because these owners attempted to register their guns and accessories, the state can now prosecute them at will because they know exactly who they are.
But when it comes to the vast majority of gun owners who did not register at all, Connecticut lacks clout.
Last month it was revealed that out of the over 2.4 million high-capacity magazines in Connecticut, only 38,000 have been registered.
"So, where did these millions of magazines go?" reporter Warner Todd Huston asked. "All that can be said is that it appears that gun owners in Connecticut are not quite the sheep that jackbooted government officials may have imagined they were."
"After all, if there really were millions of high capacity magazines in the state – and it is very likely that there are – and they have now gone unregistered, that means that thousands of gun owners have refused to bow to this unconstitutional, anti-Second Amendment law."
Likewise, only 50,000 semiautomatic rifles were also registered, further proof that Connecticut's gun owners are revolting through civil disobedience.
These gun owners correctly realize that registration only leads to confiscation and that the overall agenda of gun control is to completely ban private gun ownership.
Last year, the New York Police Department began confiscating guns which were previously registered but are now banned under New York's newest gun control law.
The NYPD knew exactly which gun owners to target by using the city's centralized firearms registry which was already in place.
Connecticut's anti-gun politicians want their own registry so they can eventually confiscate firearms in the exact same manner.
Source
http://www.capitalisminstitute.org/tyranny-in-connecticut/
[Last edited
Feb 28, 2014 04:24:17
]