Armed Americans Stand Guard Outside Military Recruitment Center
Armed Americans are standing guard outside of an Army recruitment center in Georgia today following yesterday's horrific shooting that took the lives of four U.S. Marines in Chattanooga, Tennessee.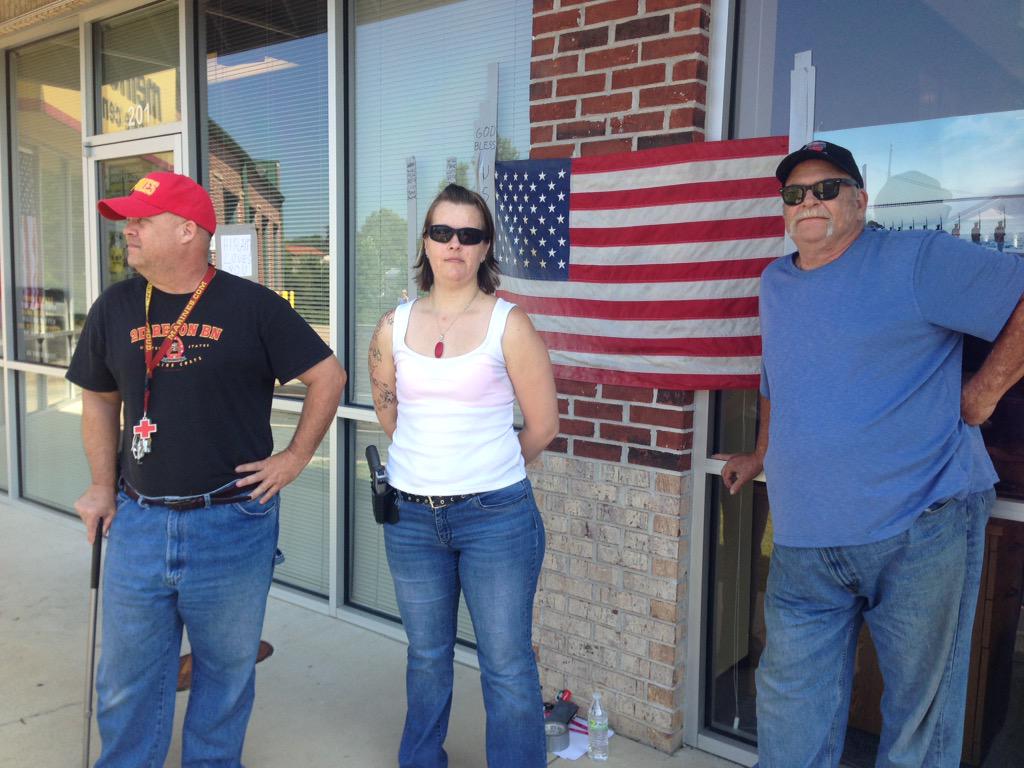 The morning after a deadly attack on two military centers in Chattanooga, residents in Hiram are standing watch outside the local recruiting office with their personal firearms. It is their unique way of honoring the fallen Marines and they said to protect the lives of those who serve in the military.
"I teared up. I think any human being would be touched by what happened yesterday. Any U.S. citizen that has a heart and a soul to hear what had happened," said Crystal Tewellow, who organized the watch.
Recruiting offices are designated as being "gun-free zones" which means officers working there cannot carry their sidearm into the building. Tewellow, whose son just enlisted and the army and has a brother who is a recruiter, felt compelled to organize the watch.
"To think the people who are supposed to protect and serve us are unable to protect and serve... protect themselves," said Tewellow. "So if us, the citizens, who carry permits, are able to help protect them that's, that's what we're gonna be able to do."
News Radio 106.7's Nathalie Pozo was at the recruitment center on Friday morning and reported that about 30 people answered the call to arms.
"This is who is fighting for us," said Tewellow. "This is who is giving us our freedom, who allows us to wake every day and if they're not here, and is taken down just like the Chattanooga incident, then how can we say that we are going to be able to wake up tomorrow?"
More people are expected to show up throughout the day. Twellow said they are trying to have at least one person standing vigil every hour.
According to MyFoxAtlanta, more than 30 armed citizens were present outside the recruitment center early this morning, with more expected to arrive throughout the day.
Similarly, a man armed with an AR-15 rifle made headlines in Virgina today after standing guard outside of a recruitment center in Winchester.
In the wake of the Chattanooga shooting, military members and politicians alike have begun calling for an end to gun free zones on military installations.
California Republican Rep. Duncan Hunter, a Marine Corps combat veteran, announced plans Thursday to introduce legislation that would allow recruiting stations to have properly armed personnel.
"Until we get our hands wrapped around this, we have to allow the people who represent the United States military to defend themselves, at the least," Hunter said. "Recruiting centers in a strip mall, they have no defense against people who just hate America and hate our military. They've got nothing."
In an interview with
Ammoland.com
, Republican presidential candidate Donald Trump stated that as President he would reverse the Clinton-era law as well.
"As Commander-in-Chief, I would mandate that soldiers remain armed and on alert at our military bases," Trump said. "President Clinton never should have passed a ban on soldiers being able to protect themselves on bases. America's Armed Forces will be armed."
The shooting in Chattanooga follows several other high-profile attacks on military property in recent years including the 2008 Fort Hood incident as well as the 2013 Washington Navy Yard shooting.
Video at link:
http://www.myfoxatlanta.com/story/29572644/hiram-residents-hold-watch-at-local-recruitment-center